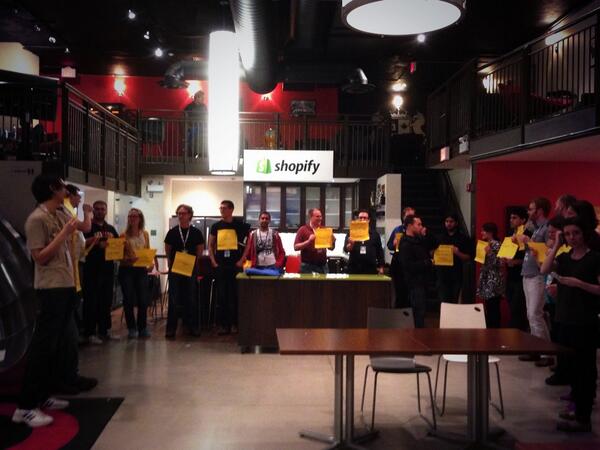 After an intense round of pitches and a voting process (photo evidence above) involving a whole lot of giant post-its (thanks, 3M!) we are excited to introduce the teams of Startup Weekend Ottawa 4.0!
Marketify
A vendor management system for local real-world marketplaces.
FrankenDraw – @frankendraw – frankendraw.com
A social drawing app based on the 1920s surrealist game, Exquisite Corpse.
GroupFlyDirect.com – @groupflydirect – groupflydirect.com
A new Canadian airline flying direct flights to exotic locales from small cities across Canada.
ShufflePlus – @shuffleplus – shuffleplus.co
A smart playlist which leverages your listening habits to create a perfect playlist — every time!
Telejoy – telejoy.com
We call you every day to help you achieve your goals.
Adgile – @adgileapp
We'll help you build the perfect display ad that is tailored specifically to your potential customers.
PresZen – @preszen – preszen.com
Project from anywhere, any device.
Obsessions  – @obsessionsapp – yourobsessions.co
We connect with like-minded people physically around you, right now.
Be sure to follow along on Twitter with the hashtag #SWO4 for all the latest news on all the teams. Laptops close at 4:00pm tomorrow, and the pitch presentation begins at 5 o'clock!